Decorworx + Rainbow Sign
One of the goals that we have been most excited for is to create a work environment that our team members considered "The Best Place to Work." About three years ago during one of our company retreats a couple of our team members asked about our plans to move into a more comfortable facility. At the time we didn't know what that would mean. Our team members had commented that moving into another facility was a significant component of creating a great place to work.
After the retreat, we set out to find a space that would fit our needs and our brand. We talked to contractors, looked at land and looked at existing buildings. After walking through many options and touring new and run-down buildings, we drove past a dilapidated building that was located on Cedar City's main street. The property looked unkept and intimidating. Even though we were a little nervous about it, we tracked down the property owner and scheduled a meeting. As we walked into the building for the first time, it was a mix of feelings. Most of the emotions were telling us to turn back around and run out the doors, but there was this little glimmer of inspiration that took hold.
In the meantime, we were investigating what our needs were, and we solidified with our team some of the highest priorities. The qualifiers that we had to meet were: lots of natural light, indoor plants, views of the outdoors, lots of bathrooms, plenty of room to grow, modern, inspired creativity and connected us to the rest of the community. This list seemed very unattainable within our rural Cedar City environment.
We had this list in mind the next several times that we visited the property. The more we talked with our people and created a vision of what we needed, the more this building started to consume our thoughts. At the time the building was being used as a warehouse, and several structures were built inside, it was difficult to imagine what could be.
When we finally purchased the 100-year-old building we approached the renovation and redesign as one of our most significant endeavors to move us closer to becoming one of the best places to work.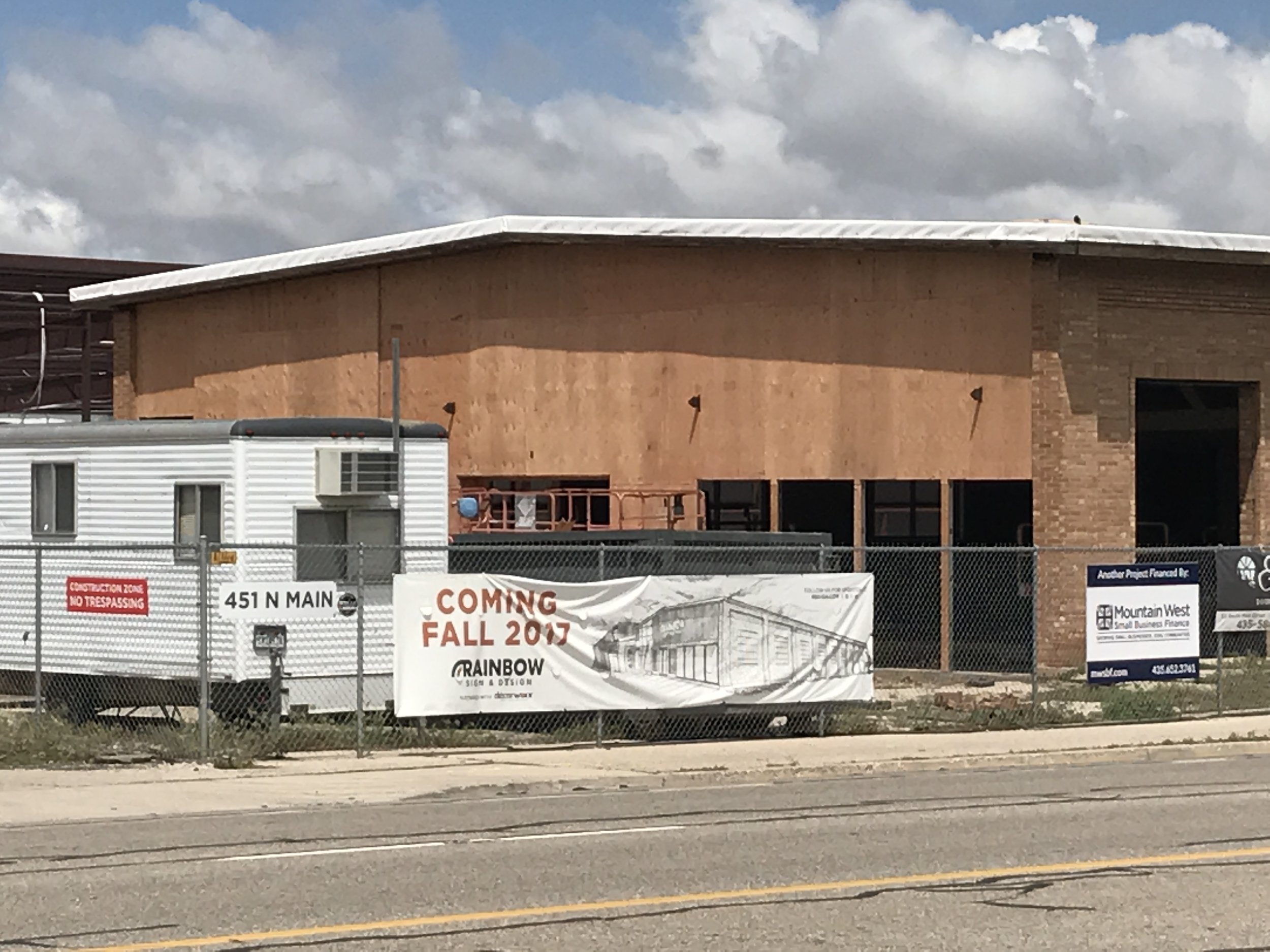 Our team has contributed countless hours into creating an atmosphere and environment that facilitates creativity among many different work styles and habits. We take on the philosophy that people need "caves" and "campfires" and do their best when having access to both. We have combined the best of both worlds with offices and open floor plan creating a hybrid space.

For our general desk arrangement it functions as an open office, team members sit next to each other in their respective functions. Everyone within the office setting has a standing and sitting desk to help promote healthier working conditions. Our open environment enables collaboration and encourages building relationships with each other. Next to each function, we have comfort zones with large couches, tables and lamps to accommodate a group of people and encourage collaboration. These we call our "campfires."
We also recognize the need for somewhere quiet and private where we can work in solitude. We have designated each conference room with an end in mind, we have rooms that facilitate creativity, learning, team meetings, phone conferences, and small size meetings. We call these our "caves." We have limited the number of individual offices to encourage interaction and collaboration throughout the company.
Our manufacturing building is set up to be comfortable and efficient, while also creating the ability to collaborate and socialize, working on building those relationships. Many of those that use computers extensively for their work have laptops. Laptops allow team members to move from campfire to cave with ease. We also have workstations outside between our two facilities, landscaped with trees and plants. It protects us from the worst of the wind we have in our location

Our location is a great asset as we are in proximity to many of the national parks in the area. We have public waking paths across the street that connect our facility to parks and restaurants. We have access to the amenities typical of a university, with Southern Utah University being a bike ride away, we can participate in many of their events. Our location is ideal within Utah, we are a couple of hours drive away from Vegas or Salt Lake, giving us the opportunity to live in the laid-back small town of Cedar City, while being close enough to metropolitan areas.
Our historic facility encourages our team members to remember the past by being surrounded by historical craftsmanship while working on projects that focus on the future by creating new innovative spaces for us to enjoy.
Since moving into our restored building, we have had many tours from other companies throughout the state to see how our building is set up and inquire about new innovative ideas for their workspace. Most team members work off laptops that enable them to work in a variety of locations throughout the day. We are on the cutting edge of technology. We have even accomplished our goal of becoming "paperless" over the past couple of years with technology.